Happy Holidays to everyone. My little story is loosely based on Charles Dickens classic A Christmas Carol. I have not stayed completely faithful to the original. It is by far my favorite story having read it dozens of times and seen many good, bad and ugly versions of it on television and stage. Nearly everyone that knows me has at one time or another received a copy of the book as a Christmas gift from me. I think I just enjoy the idea of the possibility of redemption for the soul. I hope you enjoy my story. ~LP~


Lucy looked at the clock on the wall and sighed, it was 9:15 pm and she was already over an hour late to her fiancé's office Christmas party. She rose from her desk and smoothed her skirt and brushed the hair from her face. Grabbing the binder from her desk she took a deep breath exhaling slowly before knocking softly on the door to Katherine's office. She had worked as Katherine's assistant for four years and while she had never been an easy person to work for this past year had been a test to Lucy's resilience. Katherine's husband had served her with divorce papers two days before Christmas the previous year and Katherine had been completely blindsided by it. She put forth a brave face to the out side world acting indifferent towards the divorce, but Lucy knew she felt otherwise. She had found Katherine in her office late one evening her face red and tears in her eyes. She would have offered Katherine her sympathy but she knew Katherine's pride wouldn't accept anyone's pity so she did the next best thing and pretended she didn't notice. That was the one and only time Lucy would ever witness even a momentary weakness in Katherine. Katherine had dealt with her anguish the only way she knew how, through work. If Katherine was miserable then so was every one else. It had been a year of hard work and long hours but their division had broken sales and productivity records bypassing even the goals that Katherine had set for them. She might have been a slave driver but she made sure that everyone in her division received a handsome bonus.
Putting a smile on her face Lucy opened the door to her boss's office. Katherine had been in an even more dreadful mood than usual as the holidays approached and Lucy wondered how much more her ulcer could take.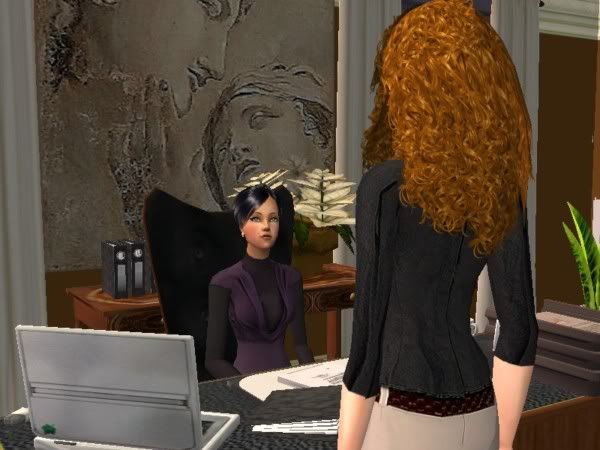 She walked quietly to Katherine's desk and stood waiting for her to acknowledge her presence. Finally she looked up and curtly asked, "What is it, Lucy?"
Lucy placed the binder on her desk as she rattled off, "Here is the information you requested on the Tate project, I moved your meeting with Mr. Stevens from nine tomorrow to ten, I sent your rsvp for the Walker and Associates New Years Eve Gala, I confirmed the menu with the caterer for the company Christmas party next week and your sister called three times."
Katherine stared at her a moment then asked, "Is that all?"
Lucy nodded hesitating before she quietly asked, "Will you need me any longer tonight?" She expected the 'You will never get a head doing the bare minimum.' speech that Katherine delivered when heaven forbid she wanted to work less than 24 hours a day and actually have a life out side of work but she simply waived her hand dismissing her.
Katherine watched as Lucy made her hasty retreat from her office. She knew that after four years she still made Lucy quake in her shoes and felt a little fear in an assistant was a good thing.


Katherine sat at her desk long after Lucy left lost in her thoughts. She had kept her self so busy through out the past year delving into work, never allowing herself to think about the mess her personal life had become she wasn't prepared when the work slowed down for the holidays and she realized the heartache was still there. It might have been buried but it wasn't gone. She hadn't allowed herself to deal with it, to grieve for the end of her marriage.
When her ex-husband, David, had come into her office two days before Christmas the previous year and handed her the divorce papers it had taken her completely by surprise which was probably more of a testament than anything else to their marriage. 'Shouldn't she have seen it coming; realized how unhappy he was?' She didn't understand how everything David told her he loved and admired about her when he asked her to marry him had six years later become the reasons why he wanted a divorce.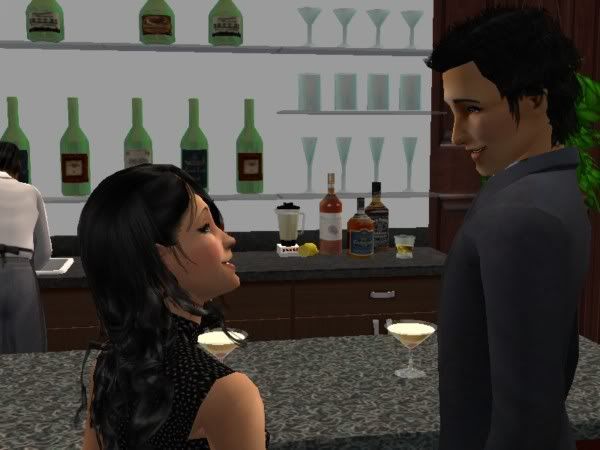 David was as career oriented as she was when they met in an elevator sneaking out early from some corporate event. They were both heading back to their offices to work but he asked her to join him for a drink at the bar and she surprised herself when she accepted. He was everything she found attractive, tall, raven black hair and his eyes twinkled when he smiled. Even better than his looks was his wit. He was smart and articulate and made her laugh something that never came easy and when he casually placed his hand on her knee as they sat at the bar it took all her restraint not to jump in to his lap. Instead she leaned in whispering in his ear, "Would you like to come back to my place?" He grinned, threw some money on the bar and helped her on with her coat.



They made out like teenagers in the cab and before the door was closed to her apartment they were already ripping each others clothes off. They never made it to her bedroom as they tumbled to the floor their hands and mouths feverishly exploring each others bodies. Making her laugh wasn't his only talent; he brought her to orgasm over and over again until she lay helpless on the floor. The next morning they exchanged business cards. She never expected to hear from him again but a week later long after everyone else in the office was gone and she was working he called and invited her to a late supper. She accepted and again they ended up back at her place but managed to make it to the bed that time. They began dating more of less, meeting after work for dinner, drinks, passionate sex and a couple of hours of sleep before heading back to work. They were both working hard towards promotions and appreciated having someone in their life that was striving for the same and wouldn't be calling asking when they were coming home from the office. Several months later when he asked her to marry him he told her that he wanted an equal partner, someone who was as career oriented as he was and wasn't looking to start a family. Finally she had found someone who understood and accept her and she agreed. They took a long weekend off and flew to the Caribbean and were married on the beach by a justice of the peace. They left on a Friday morning and were back at their perspective desks by Tuesday morning. Both their careers had taken off and she thought they were right where they wanted to be.



That is until David showed up at her office handing her the papers. He had already been to an attorney. He told her they didn't have a marriage they had a business deal, they weren't husband and wife they were roommates; that she was emotionally unavailable to him and he wanted a divorce. She was dumbfounded but she wouldn't be fodder for the office gossipers. She didn't yell or cry or beg she simply said, "If that's what you want." He threw the papers on her desk and walked out. Three months later he remarried; just one week after the divorce became final to someone he had met at his attorney's office. She heard they were already expecting their first child.


She rose from her desk and went to the window staring out over the city. It was a cliché but in a city of millions she felt alone. She had kept her sights on her goals; she had everything she thought she wanted, everything she worked for. But power, financial security and a corner office didn't keep you warm at night. She had been so focused on climbing the corporate ladder she never left time for the things in life that most people value; happiness, friends and family.
Family…she sighed remembering the three messages from her sister. She regretted that her relationship with her family had been reduced to calls on holidays, birthdays, births and deaths. The latter being what brought her home the last time. Her father died suddenly of a heart attack at 66, young really. It had been four years and she hadn't been back to the family ranch since they laid him to rest. She hadn't been home the two years prior to his passing. She never felt understood by her family. She chose a life for herself that was foreign to them. Why anyone would want to leave the beauty and unspoiled landscapes of Montana and move to the city where "people lived stacked one on top of another like rats in a cage" according to her father was beyond them. She excelled in school forgoing parties and dances to become the first student from their school to receive a full scholarship to the business school at a prestigious university in the east. Was her family excited for her? No. Her father's response was, "Why do you want to go so far from home?" but, her older sister Susan's state fair blue ribbon winning apple pie now that was cause for celebration. She would call home excited about her promotion at work and her mother would brush it off and start telling her about Susan's latest accomplishment in domesticity. Susan married her high school sweetheart and immediately started raising a family. Katherine wondered how many kids her sister was going to pop out; she already had four and one was on the way. She felt sorry for her sister living an unfulfilling life as a housewife though Susan would tell her she was content. The only time her parents were excited was when she told them she had gotten married, though the first words out of her mother's mouth were "When do you think you'll start having children?" When Katherine said they didn't plan on having children the phone was silent for a moment but the disappointment was clear. She didn't tell her mother or sister about her divorce for months. She didn't want her sister's pity and didn't think she could bear her mother's on going disappointment, in her eyes, of her failure as a woman. Her parents had been married for over 45 years when her father died; divorce was something other people did. Finally she called her sister to tell her, she acted as though it wasn't a big deal telling Susan somewhere in between, "How are the kids and have you talked to mom lately?"
She told her sister she was fine and that it was for the best but Susan wasn't fooled and simply told her, "I'm sorry, Honey." She said the words with such genuine sympathy Katherine was taken aback and quickly found an excuse to get off the phone. She had sat at her desk after hanging up, her sister's words echoing in her head and she cried. It was the only time she had allowed herself to cry over the divorce. It was that night that she started telling herself that she didn't need or want a man in her life.
She turned from the window shaking off her loneliness as she reminded herself, 'you don't need anyone, you're better off alone.' She put on her coat, grabbed her brief case, turned off the light to her office and headed home.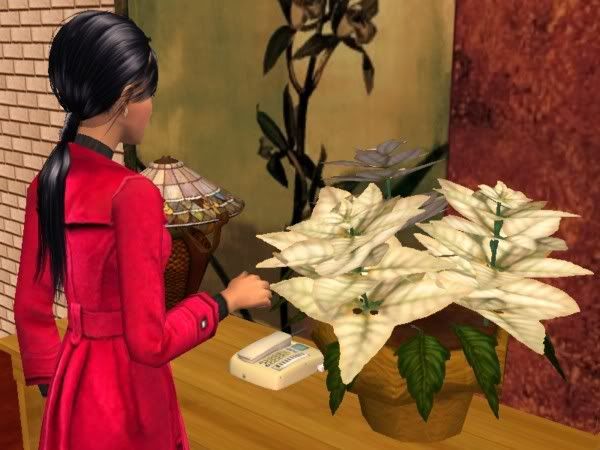 Katherine was greeted by the blinking red light on her answering machine when she arrived home, six messages. She sighed, knowing they were most likely all from her sister. She pressed the button listening to them. She was right; they were all from her sister each one sounding more annoyed than the last. She started off with, "Kath, its Susan please call me." and ended with, "Katherine, I've left you numerous messages at the office and home and I'm tired of you ignoring me. I am your family for crying out loud! I need you to call me about Christmas. With the baby so close to coming the doctor doesn't want me to travel. So Steve and the kids and I are staying home. I don't want Momma spending the holidays alone on that big ranch with just the ranch hands for company and you know she won't leave it. It's been forever since you have been home and I think it is about time. Call me."
Katherine slowly hit the delete button, she would call her but not until tomorrow. It was all ready too late to call her back even with the time difference. All she wanted to do was make her self a drink and run hot bath and besides she was too tired to think of a good excuse as to why she couldn't make it home for the holidays.


She went into the kitchen and made herself a martini; the one good thing to come from her marriage, David taught her to make a mean drink. She took a sip letting the cool liquid slide down her throat relaxing her. Susan's messages had given her a headache she knew convincing her that she was too busy to go home for the holiday was not going to be an easy task. She finished her drink and poured herself another before heading into the bathroom to fill the tub.
She lit the candles and undressed easing into the tub, slowly letting the hot water envelop her. She continued to sip her drink as she smoothed the soap over her body. Lying back against the tub closing her eyes she brought her hands to her breasts caressing her silky skin. Her finger tips moved gingerly over her nipples until the points were taut and aching. Moaning softly she smiled as she leisurely slid her hand down over her body. Her fingers teasingly traced the outline of her slit and she drew her knees up opening herself wider as her bud quivered yearning for her touch. Ever so delicately she brought the tip of her finger to her swollen clit. The soft touch sent the familiar shiver of excitement radiating out from between her legs. Her fingers pressed down moving deftly towards fulfilling the growing need for release. The water lapped softly at the tubs edge as her hand moving between her legs caused ripples in the water. Her body arched; her hand moving feverishly bringing her to an explosive peak. As the waves of pleasure washed over her she squeezed her thighs together and sunk slowly back down into the water. She rested her head on the back of the tub a moment an unabashed grin spreading across her lips. She reached for her martini finishing it in one gulp. She settled back in to the tub thinking, 'who needs a man?'
She closed her eyes again telling herself she would just rest a couple more moments before getting out of tub, but as her eyes closed and her body relaxed she heard her name softly called in a sing song voice, "Katherine…….Katherine."
She bolted upright in the tub covering her breasts as she demanded, "Who's there?" Her heart raced in her chest as her eyes scanned the room. She was alone. She told herself she must have fallen asleep and been dreaming. She rose out of the water, dried herself off and slipped her lace chemise over her head.


Wanting to look over her notes on the Tate account before her morning meeting she went into the living room. The air was chilly so she decided to light the fire. As she bent lighter in hand the fire took and the blaze grew, amongst the dancing flames appeared an apparition. She crouched frozen staring into the face staring back at her from the fire disbelieving what she was seeing.


The eyes staring back at her blinked and Katherine jumped back dropping the lighter as she screamed. Hesitantly she looked into the fire, but there was nothing there. She clasped her hand to her chest trying to calm her wildly beating heart. Taking a deep breath she wondered what was happening to her. Her words a whisper she told her self, "It can't be, it just can't be."


But before she could calm herself a voice behind her asked, "Why can't I be?"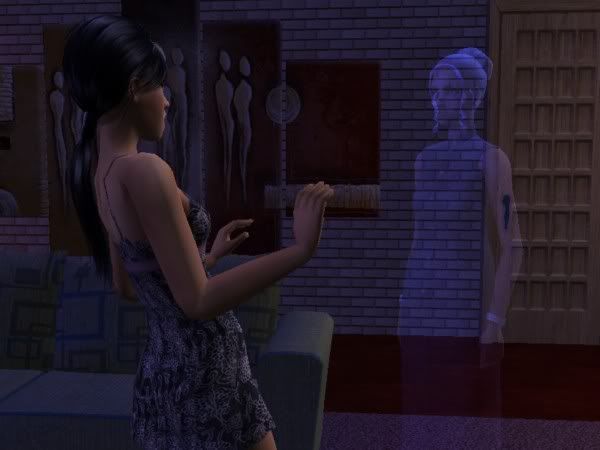 Katherine spun on her heels, "This isn't happening." she cried.
"What's wrong, don't you recognize me?" The spirit asked.
Katherine looked to the translucent face of the spirit. There was something familiar but she shook her head no.
"Look closer." the spirit demanded. Katherine studied the face, the curve of the nose, the slant of the eye the shape of the lips they were all similar to her own. The spirit saw the dawning in her eyes and she nodded smiling, "That's right. I am you…what will become of you."
Katherine was regaining her composure and getting over her initial fright, "You are nothing more than the consequence of too little sleep and two martinis in an empty stomach." She waved her hand in front of her as if to sweep the spirit from her sight. "All I need is a sandwich and a little sleep."
"What you need is to heed my warnings!" The ghost bellowed.
Katherine never one to back down, sarcastically asked "What now? I supposed you're going to tell me that I will be visited by three ghosts…"


This angered the spirit and it threw its head back letting loose a hair raising screech.
The walls shook and Katherine trembled from her head to her toes. As she wrung her hands she pleaded, "What? What do you want from me?"


"I want you to listen to me; my time here is quickly coming to an end. I've come to warn you, if you continue on this path you have laid for yourself, you will die alone, alone in your bed. No one will notice until the stench of your rotting flesh sends someone looking for the origins. Never having truly let yourself live or love, never giving of your self to others, loveless, friendless and closed off from your family, there will be no one to mourn your passing…no one to care."
Katherine shook her head as tears stung her eyes, "It's not true…it can't be true. I've worked hard…"
"Work! Work!" screeched the spirit. All work has given you is nothing but empty accomplishments, it doesn't feed your soul, fill your heart. All I have told you will be true if you do nothing to change."
"Tell me what is it you want me to do?" Katherine begged.

"You will be visited by three spirits over the coming days, learn from them Katherine…learn from all that they will show you."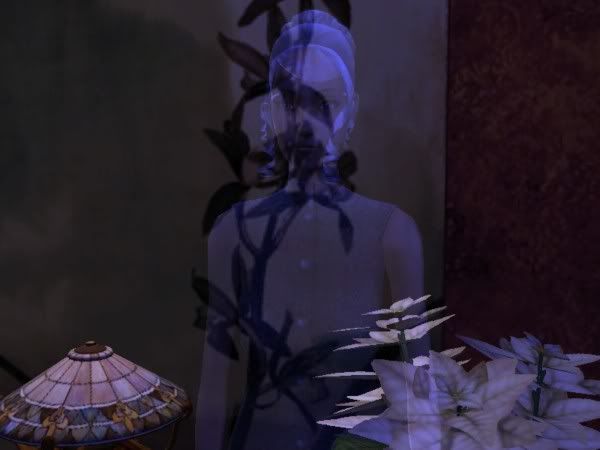 Before her very eyes the ghost drifted away from her fading slowly into the wall as she cautioned, "Heed my warnings……heed my warnings…." Katherine's head began to spin and she stumbled towards the sofa collapsing on to it.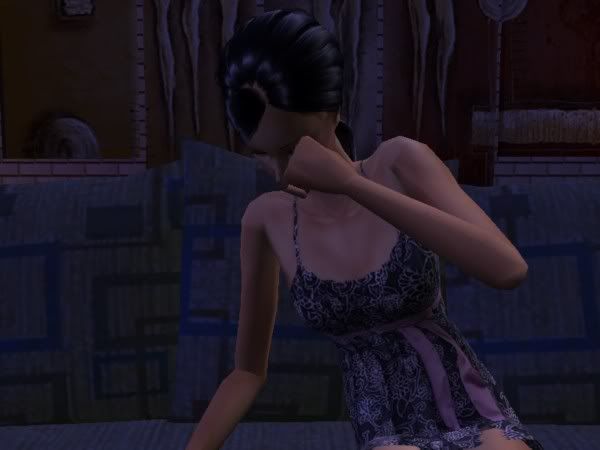 Before the sun rose on another stark December dawn, Katherine woke on the sofa. She rubbed the sleep from her eyes as she tried to remember how she ended up there.


She sat up rigid suddenly remembering the visitor from the night before. Quickly she looked to the fireplace the embers still faintly glowing red and hugged her arms to her chest suddenly feeling a chill. Shaking her head as a nervous laugh escaped her lips she told herself it was just an incredible vodka induced dream. Brushing the thoughts from her mind she got up from the sofa and went in to her bedroom to dress for work.


Katherine arrived at work as always hours before anyone else. She worked diligently all morning and when Lucy arrived she called her into her office and after rattling off the tasks she wanted her to complete, told her she did not want to be disturbed until her meeting with Mr. Steven at ten. Lucy had closed the door and let out a sigh of relief when she left Katherine's office. She could tell Katherine was working herself into a foul mood and if she didn't want to be disturbed then Lucy would be more than happy to oblige.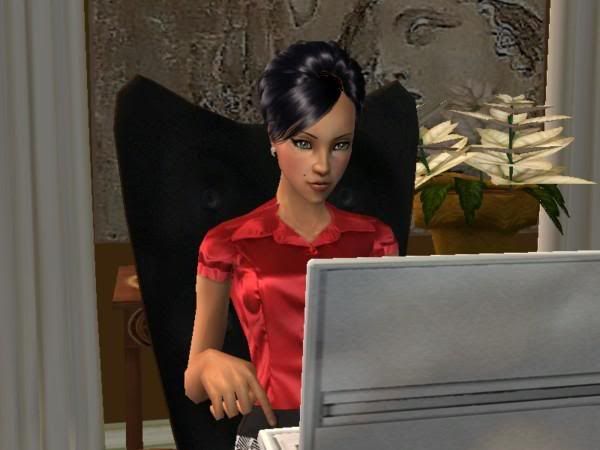 The meeting with Mr. Stevens went well and Katherine went back to her office pleased with the work she had accomplished. She called Lucy into her office to go over the tasked she had completed and to add to the list of what she expected of her for the remainder of the day. Lucy often wondered if Katherine realized she was only one woman.
She settled in at her computer going over the data she would be presenting at the end of the year board meeting. The hours slipped by quickly and before she realized, it was well after six and all thoughts of what had transpired the night before were gone.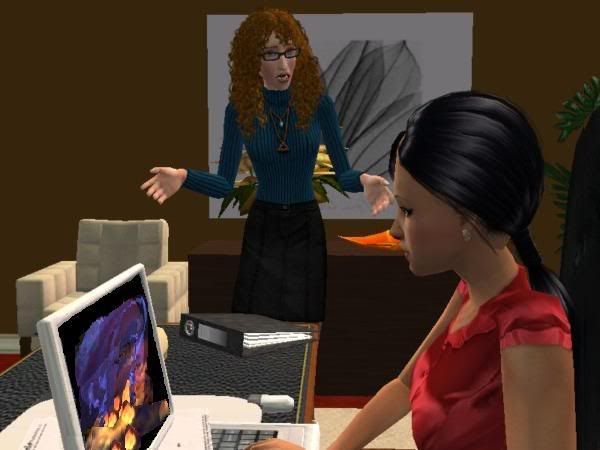 She stopped for a moment rubbing her eyes tired from the endless hours staring at the screen of her computer. When she looked back at the screen her heart stopped and she let out a small yell. There staring back at her was the spirit as she first saw her in the flames of her fireplace. Lucy came running when she heard Katherine yell. "What's wrong?"
Katherine sat frozen staring at the screen, "Do you see it?"
"See what?" Lucy asked confused.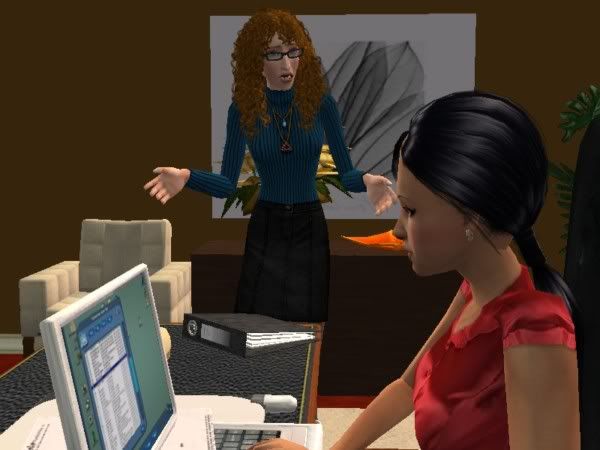 Katherine turned to her for a moment imploring, "Look!" but when she turned back she saw the same thing Lucy saw on the screen an ordinary document.
"What was it you thought you saw?" Lucy asked perplexed her voice full of concern.
Katherine closed her lap top and turned giving her a weak smile. "I think my eyes are just playing tricks on me I've been staring at that screen for most of the afternoon.
Lucy nodded, "There is more to life than work Katherine."
Taken aback by her statement so like the warnings she received from the spirit, she asked, "Why would you say that?"
Lucy stumbled over her words not wanting to insult her boss, "I…I…just mean that you always work a lot of hours you're bound to be over tired."
Katherine nodded, "You're probably right. It's getting late; you can call it a day." Lucy hesitated and she assured her, "I'm fine, you can go."


After Lucy left, Katherine paced her office wondering if she was losing her mind. She decided that maybe she did need a rest and with the year winding down it was the perfect time to take off from work. She picked up the phone and dialed, "Hi Susan its Katherine… Yes I know… I'm sorry… You're right I should have called you sooner. ..No, I'm fine….Susan nothings wrong … I just wanted to tell you I'm going to go to Montana and spend the holiday at the ranch with Mom…okay, I'll talk to you later…bye." Katherine hung up the phone and tried to reassure her self that rest was all she needed.